As I mentioned a post or two ago, I LOVE Michele May's blog, The Raspberry Rabbits. This is one of the reasons I do.... Fellowship of the Flowers.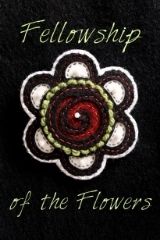 I have been following this series of hers this year and I have to say, I cant wait every month for her new project to come out! They are all fun, so pretty and incredibly inspiring!
Although I haven't been able to keep the pace and do all of them, I have made two of the candle holders as gifts. I plan on doing the rest sometime soon. My photography skills leave a lot to be desired, But take a look....
This blue one was for a dear friend, and this pink one for my sister-in-law as a house warming gift. Sorry, no details on this one!
You can see all her projects on my Pintrest page 'Fellowship of the Flowers' but you should go and check out her blog as well, you won't be disappointed and if you love what you see, you can join the Fellowship of the Flowers any time this year! -
www.the
raspberryrabbits
.com.